You have to admit, this inflatable fold-out couch just makes you want to sit in it. Not only does it look ultra-soft and cushioned, but it comes in 3 bright fun colors. These people are working, but they sure look like they are enjoying it.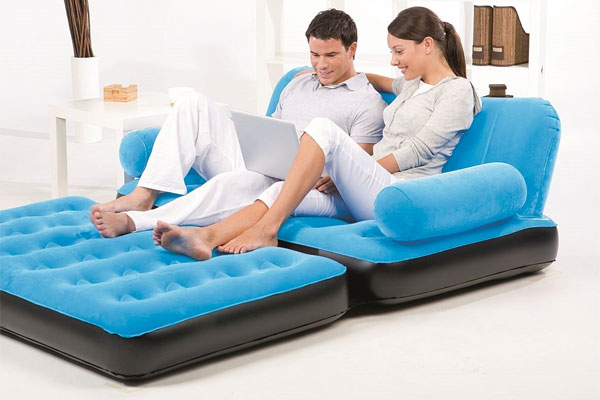 Bestway Multi-Max Inflatable Couch in Blue
You Can do a Lot with the Bestway Inflatable Couch…
As shown in the photos, it's almost like a sofa with a giant ottoman that turns the couch into a casual lounger. In addition, you can fold the flat half underneath the seat. Therefore, you create an elevated sofa that takes up less space and lets you sit higher off the ground.
It's simple to adjust the furniture, since you simply fold it. Plus, it weighs less than 11 pounds. This makes it super easy to turn it into a comfy movie lounger, carry it outside for sunbathing, etc..
On top of that, you can also use this lounger as a spare bed for overnight guests. That said, it makes a small bed. Dimensions are 74″ x 60″ x 25″, so lengthwise, the bed is just over 6 feet long (keep in mind this includes the seat back, which shortens the sleeping area even more).
Knowing the sizing, this couch could be the perfect furniture for kids and their sleepovers. (Especially seeing that it comes in blue, green and orange.) I wouldn't use it as the primary guest bed for adults.

Orange Inflatable Sofa
Inflatable Sofa Construction:
Similar to other inflatable furniture, this blow up couch has a top flocked surface. Therefore, it has a softer feel, and you don't slip and slide right of your chair. =) In addition, the bottom side is a durable black vinyl that shows less dirt.
The seat has a coil beam construction, which helps the furniture keep its shape. Plus, it helps distribute the air evenly for a firmer feel and structure. (In other words, you don't feel like you are sitting on a balloon.)
What i Don't Like About this Inflatable Couch:

1. The arm rests are more flimsy than other blow up sofas. This is mainly due to the fact that they have a stand-alone design rather than being connected to the seat back.
2. Yes the sky blue, bright orange and neon green colors are pretty, but you'll need to appreciate having a bright-colored sofa or you are out of luck.
3. If you plan on using this blow-up for sleeping, keep in mind that there is a gap down the center that may or may not bother you.
Does the Sofa Include an Electric Air Pump?

Why yes, it also comes with an air pump, so you don't have to purchase one. On its own, the Sidewinder AC electric air pump sells for about $15, so right off the bat, this package saves you 15 bucks.
I like this air pump because it has 2-in-1 capabilities, meaning it can quickly inflate and deflate your furniture. It can also be used to blow up other inflatables you might have, like air mattresses, pool loungers, inner tubes, chairs and more.
Note: the package also includes a handy patch repair kit in case you need it (another $8-10 savings) and a convenient carrying bag. You may not care about the bag if you plan on keeping your sofa inflated all the time, but it can come in handy if you want to take it camping, traveling or on picnics, the the beach, etc…
See more on how to patch inflatables here.

Green Inflatable Fold-Out Couch
Bestway Inflatables is known for making all sorts of quality blow-up products, including spas, swimming pools, furniture, camping products, pool toys, stand up paddleboards and even inflatable boats.