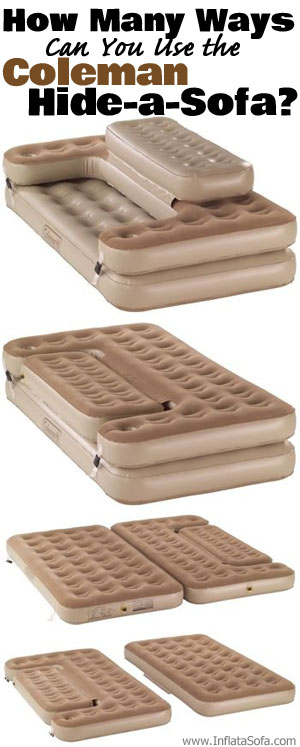 If you are looking for an air mattress that has a little more versatility than the traditional inflatable bed, check this out. It's the Quickbed Air Bed "Hide-a-Sofa" from Coleman.
At first look, you might think it's some sort of inflatable sofa. However, I think it's primarily designed to be a twin bed – but with extra "benefits".
Who Is the Hide-a-Sofa For?
I think this inflatable is ideal for people who need an inflatable mattress that they can use for a bunch of different things – not just hosting the occasional overnight guest.
What Does the Coleman Quickbed/Sofa Do?
This double-high twin mattress can easily come apart into 2 separate twin beds. So, if you have 2 different guests at the same time, you're all set – even if they want to sleep in separate rooms.
Or, keep the 2 mattresses attached to form a king-sized sleeper. It can comfortably fit 2 people, and you didn't even have to get an extra air bed.
But what if it's not bedtime, or you don't have any guests over? The quickbed "quickly" transforms into a cushioned sofa that can be used in a den, outside on a patio, etc.
And don't forget that air beds are great travelers! They enjoy camping, beach trips, soccer games, parks and more.
The way I look at it, if you are going to spend the money to invest in an air mattress, why not get the most bang for your buck and get something you can use more often – to do more activities. Right?
Cup Holders?
Oh, and did you notice the 2 built-in cup holders? Now who doesn't like a sofa with a place to set your drink? Now there's no need for a table, so Coleman has saved us even more money by not having to go out any buy that extra piece of furniture.
What I Think About Coleman Inflatable Furniture:
If I haven't already told you, I'm a big fan of Coleman. They make high quality products that last a long time and won't cost you a fortune. They simply work and keep working.
I own lots of their products, including air mattresses, which all have the Double Lock Valve that makes inflation and deflation easy. The extra sturdy PVC material that they use seems to hold up to anything. (One air mattress I've had for over 10 years, no kidding!)
This Hide-a-Sofa has the same construction, just like any other Coleman inflatable couch or sofa you might buy. It also has inner structural coils (to hold its shape better). The Quickbed supports up to 600 lbs, and you can use standard fitted sheets on it (another added convenience!).
You Need to Get a Pump for the Coleman Quickbed
That's right. This package does not come with an air pump, so you'll need to buy one. That's too bad, but the good news is that now you get to choose the type of air pump you want. Or maybe you already have one.