A New Way of Looking at Inflatable Chairs
Are you looking for a super comfortable chair without spending a lot of money?
One that you can deflate in 60 seconds and stick in the closet?
One that you can pick up and carry across the house with hardly any effort?
One that you can unfold into an air mattress for your friend who came over and drank too many glasses of wine?
Well, you will need $29.
That's right. You can get a complete set of furniture for your tv room, game table or occasional patio parties for under $100.
Not only are these blow up chairs cheap, but they are so functional and easy-care that you may find yourself using them all the time. Right about now, you may be wishing that you never bought that nice living room furniture set – OK, just kidding.
Take it with You…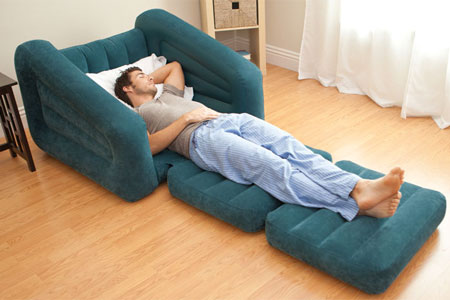 Besides using inflatable chairs for entertaining at home and overnight guests, you can deflate them and pack them up for camping trips, beach picnics, backyard cocktail parties and more. Portability is another great feature of blow-up furniture.
And if you aren't already familiar with inflatable chairs and sofas, you are in for a treat. These are really comfortable for reading, watching tv and napping. You can sink right into them, and they kind of mold to your body while still keeping a firm shape.
Everyday.
There is no reason you can't use these inflatables everyday because these are well-made. They are surprisingly durable products that you can use more often than you think.
The 15 gauge vinyl base make these chairs tough enough to go outside for short periods of time (they are not designed for full-time outdoor use). Furthermore, the waterproof flocked top and sides provide a softer, less slippery surface that cleans easily. Don't worry if you have friends that spill.
The innovative fabric company Herculite shares some cleaning tips for keeping your vinyl furniture looking its best.
But Here's the Problem:
Accidents happen. Whether through wear and tear or a sharp object coming into contact with your beloved chair, your inflatable may get a hole.
In my years of experience with blow up furniture, pool toys, mattresses, etc.. this is no big deal. Cheap patch kits can solve the problem in minutes, and after allowing your patch to dry, you can get back to sitting down again. No worries.
I have a patch kit on hand at all times for possible emergencies. One kit costs only about $10 and will last years – if not decades.
What's the size of the Intex Inflatable Pull-Out Chair?
Dimensions:
43″ x 86″ x 26″
Weight:
approximately 11 lbs
However, when deflated, the chair is compact enough to carry around in a tote bag. How many pieces of furniture do you have that you can carry around a bag? So cool.
Whether you need an air mattress for a dorm room, overnight guests or a road trip, an inflatable pull-out chair can give you what you need – plus a place to sit!
This is an easy way to save yourself some money, while having a portable piece of furniture that you can use for all sorts of different things – which means you will get a lot of use out of it.
And at this price, you might never buy regular furniture again!
Get Your Inflatable Chair Here