Air mattresses are great to have on hand for overnight guests because they are inexpensive and comfortable. Plus, you can pack them away in a closet when you are not using them. However… inflatable sofa beds can do so much more!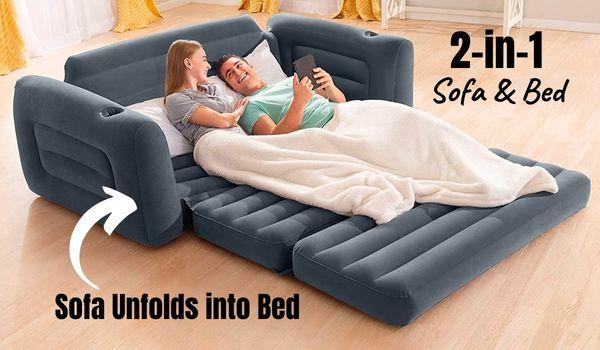 Intex Inflatable Pull-Out Sofa
Here are 5 ways to use an Inflatable Sofa Bed:
1. Take Blow-Up Couches on Camping Trips:
Inflatable furniture can be great for weekend camping trips, because they allow you to take the comfort of your sofa with you the great outdoors.
I mean, why not? They quickly deflate to a compact size that you can stow in the trunk of your car, and the sofa can double as an air mattress for sleeping at night. No need to pack a bunch of folding chairs that are way less comfortable – plus pack air mattresses as well.
2. Use Air Sofas in Kids Play Rooms:
Kids love inflatable furniture. Inflatables are cheap, easy to move and rearrange for play and different activities. Furthermore, well-made brands design pieces that hold up to everyday use.
Blow-up sofas and chairs are known for being easy to wipe clean – especially when you compare them to traditional upholstered versions. No more worrying about spilled milk, juice stains or snacks in cushion crevices…
3. Inflatable Patio Furniture:
Although I don't recommend using this sofa sleeper on your backyard full-time (it's designed for indoor use), blow-up sofas and chairs can come in handy when you decide to throw a backyard barbecue or pool party where you need extra seating.
You can stow them in a closet or your garage when not in use and then pull them out when you need them. It makes throwing outdoor parties much more fun, not to mention comfortable.
4. Sleep Outdoors on Blow-Up Sofa Beds:
Depending on where you live, you may enjoy "camping out" occasionally in your backyard during the summer. Inflatables are great for this because they are lightweight and take just a few minutes to set up.
Sleeping outside can almost be a mini-getaway without having to pack and leave for a vacation. It's also a unique way to relieve stress and be at one with nature – while still having the comfort of your bathroom and coffee maker nearby.
5. Create a Movie Room with Comfy Furniture:
If you have a spare bedroom, family room or den, a few inflatable sofas can turn your ordinary space into an awesome diy home theater. Whether you use them as comfy sofas or unfold them into giant beds, you can set up a super comfortable space that makes watching your favorite shows much more eventful.
Specs for the Intex Blow-Up Sofa Bed:
Sofa dimensions (approximate): 76″W x 30″L x 28″H
The Intex Inflatable Sofa Bed opens into a queen size mattress and sleeps 2 people.
The bottom side of the sofa is sturdy vinyl, and the top and sides have a soft, waterproof flocked surface.
Sofa has a 2-in-1 valve for quick inflation and deflation. Here is the air pump you want to get.