5 Ways to Inflate Blow-Up Furniture, Mattresses, Toys & Pools with High Volume Pumps,
Hair Dryers, Plastic Bags, Shop Vacs and More. Here's How…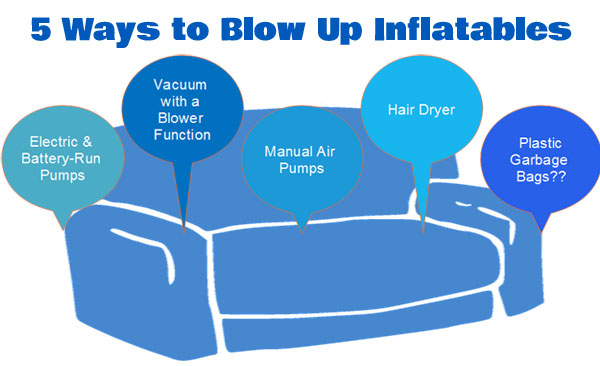 1. Electric and Battery-Operated Pumps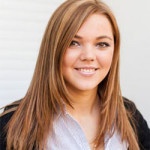 The way I prefer to inflate my air mattresses, sofas and chairs is with an electric air pump. They blow up your inflatables fast, and you can get buy them for about $18-20.
These gadgets also come with a variety of nozzles, so you can also use your pump for pool toys, fitness balls, inflatable kayaks and other sports gear. I think they are well worth them money.
2. Use a Shop Vac
That said, there is a slick technique that can save you the $20 bucks – if you have a shop vac. Yes, you can inflate your chairs, sofas and mattresses with a shop vac.
Note: If you want to blow up an inflatable pool, a shop vac is your best option out of the 5 on this page.

Alternatively, you can use a high volume electric pump. These don't cost a lot, plus they come with a variety of nozzles to fit different inflatables.

Compared to the smaller inflation pump above, this unit is 600 watts versus 130 watts.
3. Manual Air Pumps
Another option is to use a manual air pump. This is a good option if you will be inflating your air mattresses and furniture away from a power source.
Hand pumps can be somewhat tedious and tiresome, so I think the foot pump is better. Intex makes a foot pump that you can get for about $16. Even if you are near a power source, this alternative will save you some money.
So what if you don't want to buy an air pump, and you don't own a shop vac? I've got some more ideas for you.
4. Use a Hair Dryer
You can try using a hair dryer. Brilliant, right? Just use it on the cool setting, and it should inflate your furniture fairly quickly.
It doesn't have a nozzle that fits snugly into the plug on the inflatable. Therefore, you will need to hold everything in place while you inflate but that is a small price to pay.
5. Plastic Garbage Bags
The last trick on how to blow up inflatables includes using a plastic garbage bag. The video below explains how to do this. It's obviously not as fast as using an electric or manual pump, shop vac or hair dryer, but it's better that having to blow up your inflatables by mouth. It's also cheap.