This new and conveniently-cool inflatable lounger is the take-anywhere bed, sofa, chair, pool toy and raft all in one. Use them indoor in the winter, outdoor in the summer, plus you can travel with them.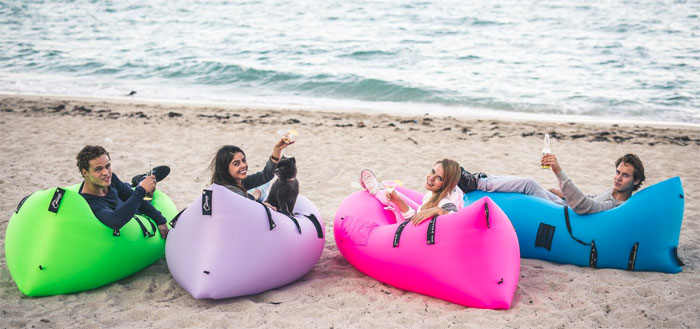 For a good time, call Inflatable Lounger.
And you can carry them on your back. And you don't need an air pump.
You may never need to buy another sofa, chair, bed, pool raft, chaise lounge or air mattress again!
But in all seriousness, if you want a piece of furniture that you can use to do pretty much anything (without spending a lot of money), this is probably the best thing you'll find.
How to Use Your Inflatable Lounger:
Not only can you get a lot of use out of it, but it is super compact. If you need portable furniture for camping, soccer games or outdoor festivals: no problem! Plus, if you need seasonal outdoor furniture that is low maintenance and cheap, you've got your answer.
Camping Mattress
Guest Bed
Pool Lounger
Beach Chair
Floating Raft
Gaming Chair
Outdoor Sofa
Family Room Lounge
Reading Chair
Replacement for a Hammock
Portable Furniture for Festivals, Soccer Games, Picnics, Outdoor Concerts and more…
And you don't need to ask me if these inflatable loungers are comfortable. You can see for yourself just by looking at them.

Branded under several different names (ie. ilounge, LoungeSak, Cloud Lounger, Bubble, Hello Hammock, Swaag, Chillbo Baggins and more), this inflatable lounger is sold in many different colors and patterns. There is no shortage of style, so you can mix and match them to suit your personality or fit in with your patio decor.
Camouflage Inflatable Lounger:
I'm a big fan of camouflage, and they make one of these loungers that is perfect for camping. With the camo pattern, you don't have to worry about getting it dirty.
Use it as a sleeping mattress as night, a campfire sofa during the day and a river float for more recreational fun. Then simply deflate it and pack it up in a small backpack and carry it with you (folds to 13″ x 7″ x 3.5″ and fits in its own carrying bag with shoulder strap). You'll find that you'll end up packing less gear, and it only weighs 3 lbs!


Chillbo Baggins does it all.
Windy conditions? Stake down the lounger using the elastic anchor loops.
Need a snack or cup holder? Large side pockets are included!
Supports up to 400 lbs.
And it floats!
Furniture as cool as this makes every experience more fun. No, you're not just laying on a beach towel anymore. You're not sitting on a rock by a campfire either. This is the future of relaxing and having more fun… anywhere.